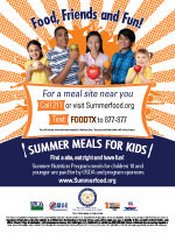 Summer Feeding Service Program
Food & Nutrition Services Department
Contact information
Office Phone: 830-569-1367
Office Fax: 830-569-1379
Christi Sanchez, Director cmsanchez@pisd.us
Lauren Coleman , Coordinator llcoleman@pisd.us
Liz Edwards, Receptionist/Bookkeeper ecedwards@pisd.us
Ruby Villanueva, High School Manager Ext. 1624 rvillanueva@pisd.us
Cheryl Fuller, Junior High/PIC Manager Junior High Ext. 1711, PIC Ext. 1921 cfuller@pisd.us
Darlene Casas, Elementary Manager Ext. 1806 tdcasas@pisd.us
Maria Leija, PrimaryManager Ext. 2011 mleija@pisd.us
Christi Sanchez
Director of Food & Nutrition Services
I am proud and honored to be serving as Pleasanton ISD's Food & Nutrition Services Director. The goal of serving our students the healthiest, nutrient rich foods they love is what I strive for every day. The cafeteria is an important part of a student's education. With the nourishment their body's need, their mind's perform!
I graduated from Pleasanton ISD. I have an Associates Degree in Sociology from Palo Alto Community College in San Antonio. I also have a Bachelor's Degree in Business Administration from Texas A&M Kingsville, System Center San Antonio. I began working for Pleasanton ISD in 2004 as a Food & Nutrition Services Supervisor. For the last 3 years, I have served as the Director for the department. I am currently a member of the Texas Assoc. of School Nutrition, the School Nutrition Association and serve as the secretary for the Central Texas School Food Service Directors' Assoc.
You can …Count on Us… to serve you and support healthy lifestyles with a positive team spirit! Please feel free to contact me with any suggestions or concerns.