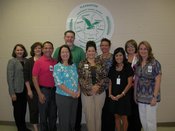 You Can Count On Us!
Academic Services

You Can Count On Us...
to ensure all staff have the resources, training, staffing and procedures necessary to reach excellence.
Academic Services Goals

Academic Services will:
Provide timely, relevant professional development to all district staff.

Support all stakeholders with current research-based best practices/resources in a user-friendly format.

Ensure collaborative district alignment, implementations, and evaluation of Special Programs to meet the needs of all learners.

Directly assist in the creation and implementation of learning environments where students are engaged in purposeful learning.

Provide and guide effective use of data to focus instruction and target interventions to drive student achievement.

Assistant Superintendent - Academic Services
Debbie Drew
ddrew@pisd.us
---
It is with great pride and pleasure that I serve as Assistant Superintendent of Academic Services. I started my education career here in Pleasanton ISD 17 years ago and I have enjoyed the opportunity to serve the students, staff, parents, and community of Pleasanton. I earned a Bachelor of Science degree from Texas A&M University and a Masters Degree from Texas A&M University - Kingsville. I have taught for 4 years, one of which was at a Montesorri school in Naples, Italy. I have served as an administrator for 13 years in a variety of capacities: Elementary Assistant Principal, Elementary Principal, Director of Special Education, and High School Principal. My husband of 12 years, Jerry Drew, grew up here in Pleasanton. My son graduated from Pleasanton HS in 2010 and is currently studying at Texas A&M University. We take great pride in our Pleasanton community and I take very seriously my responsibility to serve Pleasanton and all it's stakeholders.